Manchester United take on Newcastle United in the Premier League this evening and none of the magpies fans will be looking forward to seeing Wayne Rooney. The United front man has scored more Premier League goals against Newcastle than he has against any other team (equal with Aston Villa).
WAYNE ROONEY VS NEWCASTLE
Rooney has managed to score some spectacular goals vs Newcastle and the chart below shows each of the 11 he has scored for Manchester United, in addition to the opening goal he scored against the Magpies for Everton back in 2003.
When United last came up against Newcastle over the Christmas period, once again he terrorized them scoring the opening goal, then adding a second and finally assisting Robin van Persie's goal to make it three. Also who could forget his stunning volley from back in 2005 entirely fueled by frustration and rage from the referee's decision 10 seconds earlier.
This has now been a decade in which Magpies fans will have groaned every time they've seen his name on a team sheet and I can't imagine tonight will be any different.
Wayne Rooney himself had this to say on his Instagram account about taking on Newcastle.
"Looking forward to our game tomorrow against Newcastle and building on Saturdays win."
When you've seen his record vs Newcastle it's no wonder he's looking forward to it.
TWO MASSIVE PRICE BOOSTS FOR THIS EVENING
1. BETWAY - £10 RETURNS £210
New customers can get a massive 20/1 on these four massive Premier League teams to win this evening. This is a full £149 more than any other bookie will give you for a normal price on this selection. Simply click the image below to sign up and take advantage.
2. PADDY POWER - £10 RETURNS £150
If you've already got a Betway account, fancy doubling up on the special offers or wanted some insurance on your bet then Paddy Power is your bookie. They offer the same bet with £150 returned from a £10 bet. They also offer a money back guarantee whereby if this bet doesn't win, they will return your stake as a free bet for next time.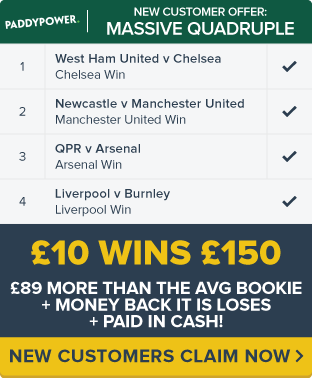 BUILD YOUR OWN ACCA
Don't forget to check out our brand new 'Winning Tips' tool, which is located next to 'Accumulators' on the menu bar. Here you can find out how accurate our predictions have been for each team in markets and time periods of your choosing. You can also see how much profit or loss we have made on individual clubs.
If you would like to put together your own accumulator, then we suggest that you head over to our Acca Smacker page. This really is the smartest and simplest way to build winning coupons.