Arsenal midfielder Mesut Ozil has been talking to the official Arsenal website and believes he knows exactly how to achieve victory over Liverpool this evening.
"We are at home and we know exactly how we can beat Liverpool. That is what we want to do on Monday.

I remember that we delivered a really convincing display [in the last home games vs Liverpool]. In the first half we decided the game because we had a high level of concentration and wanted to utilize our potential. We want to do that again this time.

We were highly concentrated. The manager gave us tasks on the pitch and we executed them perfectly. That's what we will have to do on Monday again.

We have to believe in ourselves as we have the potential to beat every team and we will show that on Monday."
So how is it that Arsenal have beaten Liverpool recently and what are the similar characteristics we can discover that they'll need to replicate this evening?
LAST 8 ARSENAL WINS VS LIVERPOOL
Below shows the previous most popular characteristics in Arsenal's last eight wins over Liverpool at home in the Premier League.
One key component of Arsenal's victories over Liverpool has been in them finding the net more than once. In their last eight wins the Gunners have managed to score 21 goals vs Liverpool at home and in seven of those games, they have scored at least two goals or more.

A key component of scoring more than once is also taking control of the game by finding the first goal. Again in seven of their last eight wins Arsene Wenger's men have found the first goal of the game against Liverpool.
Less important seems to be keeping a clean sheet vs Liverpool as in only 50% of Arsenal's last eight wins have they needed to completely shut Liverpool out in order to keep all three points.
LAST 6 ARSENAL DRAWS VS LIVERPOOL
Here is the same but for when Arsenal have drawn the game. vs Liverpool.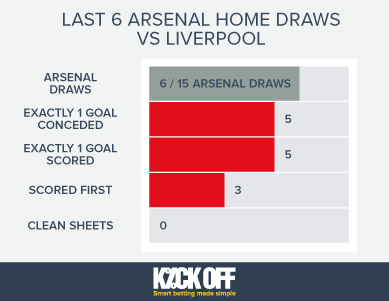 In the most recent six games in which the points were shared vs Liverpool five of them have ended in exactly a 1-1 scoreline.
With Arsenal only keeping four clean sheets in their last 15 home games vs Liverpool, only finding the net once appears to resign them to a share of the points.
Another key component of the draws seems to be in conceding the first goal to the Merseysiders. In only three of the six drawn games did Arsenal take the lead and let Liverpool get back into the fixture.
THOUGHTS
Arsenal have a great record against Liverpool at home having not lost since 2011 and before that you have to go all the way back to 2000 to find the last Liverpool victory.
If Arsenal are to add a 3rd victory in a row vs Brendan Rogers's men then it seems the two most important factors are scoring first and then adding a second or more all but guarantees victory in front of their own fans.
Mesut Ozil seems in pretty confident mood after the game plan was so effective in their last meeting with Liverpool and our unique predictive algorithm also seems confident making the Gunners 61% favourites.
WHAT'S NEXT?
After one win in their last 15 Premier League visits to Arsenal, it looks an uphill battle for Liverpool. Why not combine an Arsenal win tonight with your other favourite picks from next weekend's games? An Arsenal victory tonight and on Saturday vs Newcastle will win you £27 to start off with.
Our unique statistical algorithm agree making the Gunners strong 61% favourites to take all three points from this one. Why not combine a win tonight with your other favourite picks from next weekend's games? An Arsenal win tonight and on Saturday vs Newcastle will win you £27 to start off with.
The Acca Smacker remains the quickest and best way to pick your bets to beat the bookies. Click on a percentage prediction to see what returns each bookie offers. Each additional selection will show which bookmaker is offering the best return for your accumulator. To see both recent form and fixture history, click on the blue arrow on the left.
GET £70 FOR AN ARSENAL WIN
With Arsenal seemingly heavy favorites, new customers at Paddy Power can great some great odds for a Gunners victory. A £10 bet wins £70 which is a full £62 more than the normal price with other bookies.
Simply click the image beneath to take full advantage of this great offer.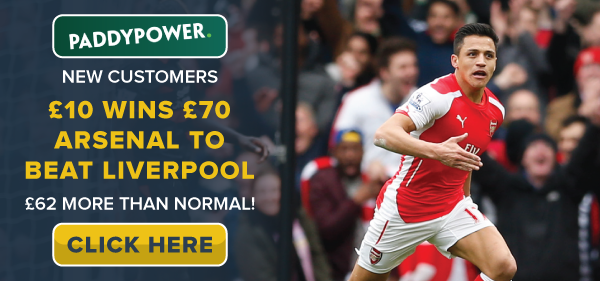 REGISTER NOW TO GET EXCLUSIVE BENEFITS
Register with KickOff.co.uk to get access to our exclusive free service tracking all your accumulator bets and their outcomes, get free live in-play predictions from across Europe's biggest leagues and get all the live in-play stats and scores. It takes less than 30 seconds to register and is well worth your time, simply click the image beneath.