Chelsea are often accused of taking an overly pragmatic approach onto the pitch with them, but they certainly know how to get results.
Keeping hold of the ball is not Jose Mourinho's style, but how have his team fared in and out of possession when compared with their major rivals in Premier League matches since the beginning of last season?
POSSESSION OVER 50%
The Blues have enjoyed the majority of possession in 30 of their previous 42 top-flight encounters, with this being the lowest figure amongst the top six finishers from 2014/15. Chelsea have actually won 20 of these contests, however, with their points per game average of 2.17 putting them at the top of the charts.

POSSESSION UNDER 50%
Two things stand out when looking at the 12 matches in which Mourinho's men have had to settle for less than 50% of the ball. Firstly, the West London outfit are the proud owners of an unbeaten record and, secondly, their points per game average once again stands at 2.17. Unlike when enjoying the lion's share of possession, however, this return only places them fourth amongst the major clubs.

THOUGHTS
These figures just go to show that Chelsea are equally comfortable with or without the ball, a claim that none of their rivals can make. This adaptability paid rich dividends last season, so the Blues will be hoping for similar results this time around.
NEXT UP
Chelsea visit Goodison Park on Saturday lunchtime. Everton are known for their possession-based approach, but Roberto Martinez's men have only enjoyed more of the ball than their opponents in one Premier League game so far this season.
THE ACCA SMACKER
The quickest and best way to pick your bets to beat the bookies. Click on a percentage prediction to see what returns each bookie offers. Each additional selection will show which bookmaker is offering the best return for your accumulator. To see both recent form and fixture history, click on the blue arrow on the left.
GET ALL OF KICKOFF'S GREAT FEATURES ON OUR IPHONE APP
You can get all of our great features in your pocket and on the go by downloading the KickOff app from iTunes. Simply click on the image beneath to get downloading.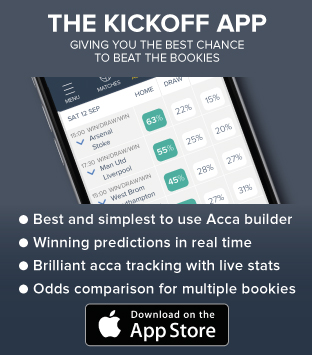 REGISTER NOW TO GET EXCLUSIVE BENEFITS
Register with KickOff.co.uk to get access to our exclusive free service tracking all your accumulator bets and their outcomes, get free live in-play predictions from across Europe's biggest leagues and get all the live in-play stats and scores. It takes less than 30 seconds to register and is well worth your time, simply click the image beneath.