In a Premier League full of intriguing storylines, there are few matches with more subtext than Chelsea v Manchester United. With former players and managers returning to their past stomping grounds, rivalries bubbling under the surface and a recent history of huge clashes, all the ingredients are there for a thriller on Sunday afternoon.
For that to be the case, however, Jose Mourinho may have to break from type. His United side has been much criticised in recent weeks for some drab away performances, and the neutrals will be hoping for anything other than more of the same.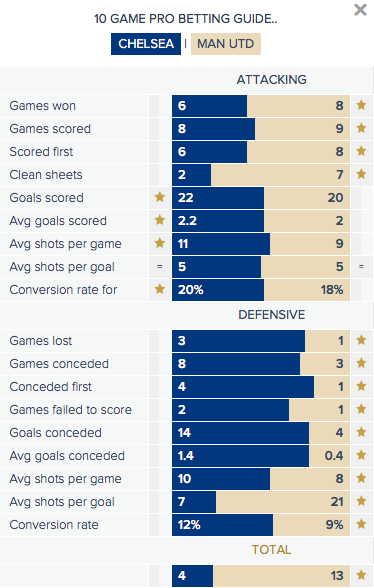 Our Pro Betting Guide (above) highlights should deliver a glimmer of hope on that front, however, as recent form suggests that Chelsea may just be there for the taking.
In attack, while neither side is firing on all cylinders, respective averages of 2.2 and 2.0 goals per game are far from dreadful. Both sides are getting a reasonable number of shots off in each game, and their conversion rates of 20% and 18% are definitely credible.
It's in defense, however, where a chasm begins to open up. Chelsea have just 2 clean sheets in their last 10 outings to United's 7, and are conceding a full goal per game more on average than Mourinho's side. Quite simply, Antonio Conte's side look vulnerable.
With that in mind, a famous and vital away win looks very much on the cards if Mourinho does decide to go for it. United have the attacking firepower to take advantage of their opponent's weaknesses, it's just a question of whether they use it.
Fortunately, whichever way you see the match going, Betfair have you covered. They're offering new customers huge odds od 33/1 on a Chelsea win and 40/1 on a Manchester United win, so whatever happens, you'll be quids in.