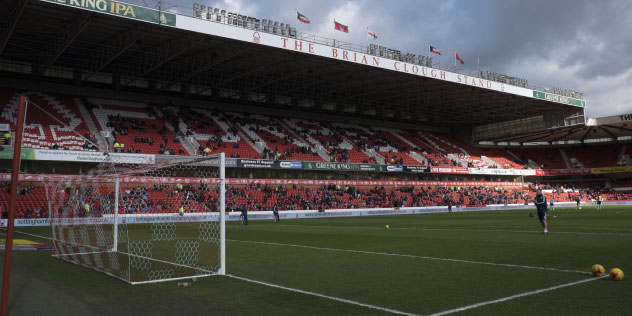 What Does Halftime Fulltime Mean in Betting?
By Sasha Isaacs - May 14th 2022
Half-Time Full-Time (HT/FT), known as Double Result Betting by some, is a market which allows the better to choose what the outcome of a selected match will be at the end of the first-half and at full-time, with a single bet.
This bet is available in football and all other sports which are divided into two equal parts, and there are nine possible outcomes to select from.
How the HT/FT market works
As explained in our Win Draw Win blog, there are three outcomes for results at the final whistle in football matches. These are home win, draw, or away win, ordinarily referred to in the football betting world as 1, X and 2 respectively. Below are the choices which are available to the punter when placing a HT/FT bet:
Home lead (1) - Home Win (1)
Home lead (1) - Draw (X)
Home lead (1) – Away Win (2)
Draw (X) – Home Win (1)
Draw (X) – Draw (X)
Draw (X) – Away Win (2)
Away lead (2) – Away Win (2)
Away lead (2) – Draw (X)
Away lead (2) – Home Win (1)
To place a bet in this market, you will need to pick one of the above. To be successful, both outcomes you have selected must be correct for the bet to pay out. Therefore, if you accurately predict the half-time part of your bet correctly, but your full-time result prediction is incorrect, you would lose your money.
This market differs from the standard Win Draw Win market, as the odds are better, as picking two correct outcomes for a match is twice as hard as picking one. It shares similarities with the Double Chance and Draw No Bet wagers, as it allows you to back two different teams in a single match.
As with many other markets, HT/FT doesn't take into account any changes to the score beyond the standard 90 minutes, from when the referee blows for kick off to the final whistle. So extra time, and perhaps even a penalty shoutout, wouldn't be included in this bet, unless otherwise specified by the bookmaker.
How to win HT/FT bets
This can be a great market to target and earn great winnings when a team is heavy favourite, with it commonly being used to increase winnings on a "safe" bet. Let's say you're betting on what looks like a very one-sided match, such as Manchester City hosting Watford at The Etihad Stadium.
It's rational to envisage that the Guardiola's men have a better chance of scoring in both halves, as well as keeping a clean sheet in both, so backing them to lead at the break and at the final whistle could lead to more money in your account come the end of play, than simply betting on The Citizens to win in a standard WDW bet. This is due to increased odds, as you're attempted to get two things correct, as opposed to one.
Some bookies will make HT/FT markets available during matches, which will provide extra opportunity to win this bet, as you'll have an opportunity to see how the match is panning out before committing. If your timing is spot on, you can place a bet just before a dangerous looking set piece, or when the favourites are piling on the pressure. Let's take a look at some other top tips for this market.
Tips for HT/FT bets
If you think there's a high likelihood of a draw, you can get excellent returns.
If you were to back a draw at half-time and full-time, you're guaranteed better odds than backing the draw in the straightforward match betting market.
A draw at half-time is the most likely result
Without research in this market, which isn't to be advised, it is good to know that a punt on a draw at half-time is more likely to be successful than a bet on either side winning at the interval. Because more goals are scored in the second half, betting on a first half draw, followed by the favourites winning at full-time, is a good tip for this market. This is particularly true for a match between sides with strong defences that could take time to sus each other out and wear each other down.
Consider a team's strategy before making your selection
This could mean their strategy for every match, i.e., their tactics and formation, or their strategy for a single match, given context. Let's take Jurgen Klopp's Liverpool for example, who ordinarily fly out of the blocks with their supremely talented players, so would be expected to lead at half-time in most of their outings. If, for instance, they were facing a strong attacking side in the second leg of a Champions League match with a two goal advantage, they may not be as gung-ho as usual, so betting on a half time lead may not be worthwhile.
It's vital to keep up to date on football news
For this market and so many others, it's very important to keep up to date on football news, such as players' form, injuries, suspensions, change in the team's formation and tactics, and managerial changes. If you're too busy and fancy the odd flutter, our expert writers at kickoff.co.uk will do the research for you, informing you as to what they think they imagine the outcome to be at half-time and full-time in eye-catching matches, based on all kinds of stats and patterns in the teams' previous encounters, as well as their head to head record.
General stats worth bearing in mind for HT/FT bets:
Teams that are ahead at half-time go on to win in roughly 80% of matches.
Teams behind at half-time manage to make a successful comebacks in around just 5% of matches.
Between 55-60% of goals are scored in the second half of matches.
This market is hard to predict due to the large number of variables, meaning whilst their hard to win, they often contain hidden value. Of course, as with any type of gambling and specifically football betting, you're assuming risk, but in the case of the HT/FT market, you can come out a big winner.
Written by Sasha Isaacs for kickoff.co.uk
This entry was posted in Beginners Betting, Betting Tips